Religious School
Simchat Torah & Consecration service: Celebrate the completion of a full cycle of Torah reading as we unroll the ENTIRE scroll. Plus a special welcome Consecration for students new to religious learning. Sunday, Oct. 20, 6 p.m.
---
The 2019-2020 Religious School calendar
---
Video prayer library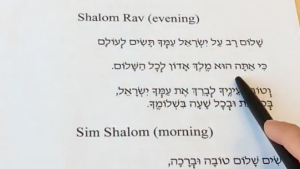 Students can use the video prayer library to master prayers they're learning in Hebrew school. Watch over 50 videos of Cantor Sharlein following the Hebrew while reading & chanting prayers Temple Sholom style. Ask school staff for the student login.
---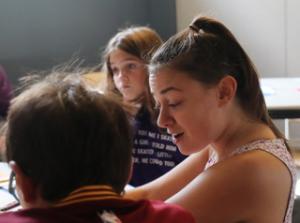 Jewish Education at Temple Sholom is an effort among educators, parents and students to make Judaism part of who we are. We embrace making educated Jewish choices that add meaning and holiness to our lives.
Overview of our program
News

Erev Rosh haShanah is Sept. 29th!
HONEY SALE!
Send a jar of kosher honey to arrive before the New Year with your New Year wishes while supporting the Temple.
2019 Temple Slideshow
Watch this video that debuted at the annual meeting: Great Temple Sholom photos from throughout the year.
Upcoming Events
Sunday, Sept. 29 - Rosh haShana evening service, 7:30 p.m.
Monday, Sept. 30 - Rosh haShana
Friday, Oct. 4 - Kabbalat Shabbat Shuvah - Tallit Workshop Group presentation, 7:30 p.m.
Tuesday, Oct. 8 - Kol Nidrei, 7:30 p.m.
Wednesday, Oct. 9 - Yom Kippur, 9:00 a.m. (Children's Service), 10:30 a.m. (Morning Service)
Sunday, Oct. 13 - New Member Brunch, 10:00 a.m.
Sunday, Oct. 13 - Sholom Again - Pizza in the Hut, 5:30 p.m.
Monday, Oct. 14 - Sukkot Shacharit - Service in the Woods, 10:00am
Thu, October 17 2019 18 Tishrei 5780