Religious School
UPDATES DURING THE CORONAVIRUS OUTBREAK
Online learning is here
Preparation: Overview and a few key steps for traditional program and family track students. Online learning starts Sunday, March 22.
Links to online classrooms (Note: This page requires either member login or student login. Learn more)
---
Teen volunteers: The Madrichim are a big help. Read More
---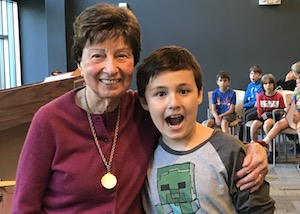 Hebrew Buddy of the Week is back! Our Hebrew school students learn tefila in duos, with an older student or mentor helping a younger one. Every week a pair is spotlighted and their picture is posted outside the Temple office. Congrats, Claire & Oliver!
• Buddy of the Week photo gallery
---
Video prayer library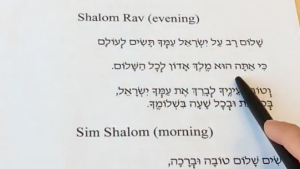 Students can use the video prayer library to master prayers they're learning in Hebrew school. Watch over 50 videos of Cantor Sharlein following the Hebrew while reading & chanting prayers Temple Sholom style. Ask school staff for the student login.
---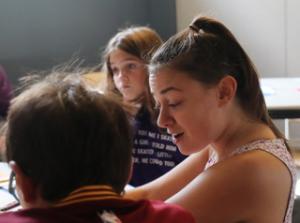 Jewish Education at Temple Sholom is an effort among educators, parents and students to make Judaism part of who we are. We embrace making educated Jewish choices that add meaning and holiness to our lives.
Overview of our program
News
UPDATES & LINKS DURING THE CORONAVIRUS OUTBREAK
Worship with us online: We are streaming Shabbat services. Watch services and follow along with an online prayer book. Services on April 3 are at 7:30pm. There are no Saturday services at this time.
Passover resources: A collection of Reform-friendly Passover resources, including online Haggadot, songbooks and more.
Letter from our treasurer: There are important financial considerations for Temple Sholom during the coronavirus crisis. Please read this letter, which includes some key how-tos for bill-paying online, making donations and buying scrip.
Please read the temple's March 19 letter to the congregation with updates about the closing of the building and opportunities for connecting with others.
---
Check out the February-March Temple Topics
---
Consider a legacy gift to
Temple Sholom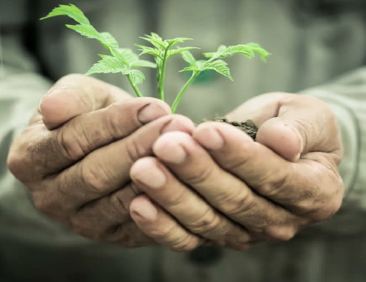 Your generous legacy gift to the Endowment will help ensure the future success and prosperity of Temple Sholom for generations. Pledge a legacy gift by March 1, 2021, and a beautiful matching donation will be added. More about this wonderful program.
Upcoming Events
Please check this website and our calendar for cancellations due to the virus and safety for all.
April 9, 6pm - Virtual Passover Seder. OPEN TO ALL! Join Zoom Meeting -https://zoom.us/j/264133897

April 11, 11am - Virtual Matzah Brei Brunch. Share recipes, matzah brei and conversation. Prizes will be awarded for most creative, best theme, etc. Join Zoom Meeting - https://zoom.us/j/827426986
Fri, April 10 2020 16 Nisan 5780