Religious School
UPDATES DURING THE CORONAVIRUS OUTBREAK
Online learning is here
Preparation: Overview and a few key steps for traditional program and family track students. Online learning is ongoing.
Links to online classrooms (Note: This page requires either member login or student login. Learn more)
---
Teen volunteers: The Madrichim are a big help. Read More
---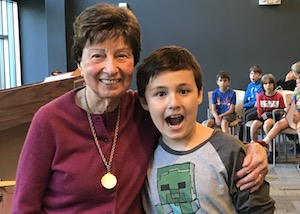 Hebrew Buddy of the Week is back! Our Hebrew school students learn tefila in duos, with an older student or mentor helping a younger one. Every week a pair is spotlighted and their picture is posted outside the Temple office. Congrats, Claire & Oliver!
• Buddy of the Week photo gallery
---
Video prayer library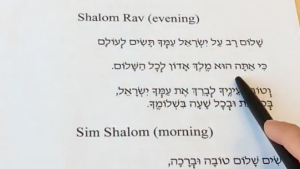 Students can use the video prayer library to master prayers they're learning in Hebrew school. Watch over 50 videos of Cantor Sharlein following the Hebrew while reading & chanting prayers Temple Sholom style. Ask school staff for the student login.
---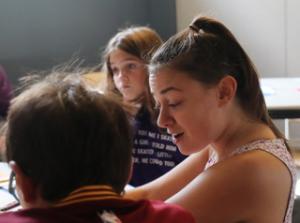 Jewish Education at Temple Sholom is an effort among educators, parents and students to make Judaism part of who we are. We embrace making educated Jewish choices that add meaning and holiness to our lives.
Overview of our program
News
UPDATES & LINKS DURING THE CORONAVIRUS PANDEMIC
Worship with us online: We are streaming Shabbat services. Watch services and follow along with an online prayer book. Services are at 7:30pm unless otherwise noted. There are no Saturday services at this time. NOTE: July 31 service is a Sunset Service at 6pm.
Login to the website, do cool stuff:
Did you know you can pay your Temple Mishpahka dues, sign up for events, make a donation and more - IF you sign in to the website.
Plus, for security reasons, links to remote activities are now on members-only pages.

Learn how to login

We're here for you: Rabbi Abraham, Cantor Sharlein and the office staff are available by phone or by email. If you need anything or can help with anything….even if you just want to say say hello, please reach out by email (using the links above) or leave a message on their voice mail via the office phone.
---
Check out the June Temple Topics
---
Tales of Tikkun Olam-"Even a Small Good Deed Brings Light to the Darkness"
by Lynn Mollick
---
Distance learning & remote opportunities for everyone: Many of your favorite classes are still happening, plus there's a weekly check-in and more online get-togethers. Info and links to all the opportunities. (Note: You must be logged in to view this page. Learn how.)
Letter from our treasurer: There are important financial considerations for Temple Sholom during the coronavirus crisis. Please read this letter, which includes some key how-tos for bill-paying online, making donations and buying scrip. Please read the temple's March 19 letter to the congregation with updates about the closing of the building and opportunities for connecting with others.
---
Consider a legacy gift to
Temple Sholom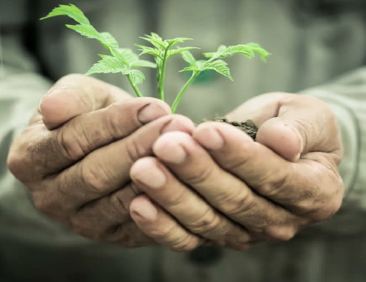 Your generous legacy gift to the Endowment will help ensure the future success and prosperity of Temple Sholom for generations. Pledge a legacy gift by March 1, 2021, and a beautiful matching donation will be added. More about this wonderful program.
Upcoming Events
Please check this website and our calendar for cancellations and changes to online venues due to the coronavirus pandemic.
Featured event:
Rosh Hashana Honey Sale is on!
Order your jars of honey for the holiday now. Save on shipping (through July 22), and help raise some money for Temple Sholom. Go straight to our honey store or learn more.
July 3rd
6pm - Shabbat-A-Que (BBQ on Shabbat) The tradition continues! If we can't have our annual Shabbat-A-Que on our patio, we will have a virtual BBQ! Have your candles ready to light at 6pm. After that, we will grill food, socialize and enjoy a meal before the service. The service will conclude at approximately 7:15pm.

ROSH HASHANAH HONEY SALE
Wish family, friends and business associates a "Sweet and Healthy New Year" by sending a jar of honey!
Thu, July 2 2020 10 Tammuz 5780