Religious School
Teen volunteers: The Madrichim are a big help. Read More
---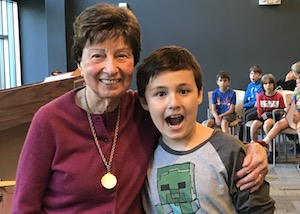 Hebrew Buddy of the Week is back! Our Hebrew school students learn tefila in duos, with an older student or mentor helping a younger one. Every week a pair is spotlighted and their picture is posted outside the Temple office. Congrats, Claire & Oliver!
---
Video prayer library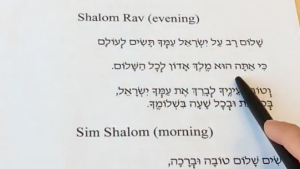 Students can use the video prayer library to master prayers they're learning in Hebrew school. Watch over 50 videos of Cantor Sharlein following the Hebrew while reading & chanting prayers Temple Sholom style. Ask school staff for the student login.
---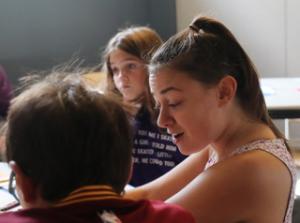 Jewish Education at Temple Sholom is an effort among educators, parents and students to make Judaism part of who we are. We embrace making educated Jewish choices that add meaning and holiness to our lives.
Overview of our program
News
Check out the December-January Temple Topics
---
Hosting Families in Need, Dec. 15-23 - Temple Sholom is partnering with Family Promise by hosting four to five families who are seeking permanent housing. As the host organization, we will provide shelter, meals, and social interaction in a safe and comfortable environment. Learn how to help
Upcoming Events
Dec. 15 - Religious school Chanukah party, 9:30-12
Dec. 15-23, Family Promise hosting week. Learn how to help
Dec. 20 - K-2 Shabbat Service and Chanukah Dinner. 6pm service, 7pm dinner - Sign up
Dec. 27 - Sunset Kabbalat Shabbat, 6pm
Sun, December 15 2019 17 Kislev 5780