Religious School
Teen volunteers: The Madrichim are a big help. Read More
---
Congregation education day,
Sunday November 23, 10-12 - Our theme is life cycle and we're gathering a panel of congregants to share a life cycle event (birth, b'nei mitzvah, wedding, etc) that was particularly impactful. To participate, contact Jennifer.
---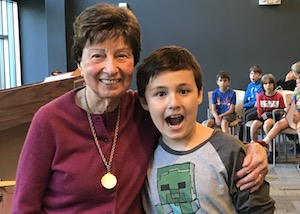 Hebrew Buddy of the Week is back! Our Hebrew school students learn tefila in duos, with an older student or mentor helping a younger one. Every week a pair is spotlighted and their picture is posted outside the Temple office. Congrats, Claire & Oliver!
---
Video prayer library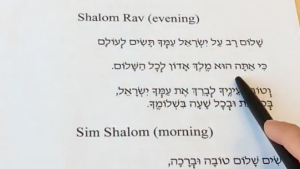 Students can use the video prayer library to master prayers they're learning in Hebrew school. Watch over 50 videos of Cantor Sharlein following the Hebrew while reading & chanting prayers Temple Sholom style. Ask school staff for the student login.
---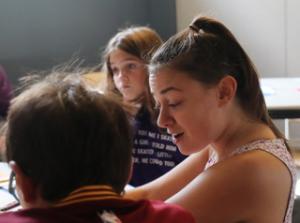 Jewish Education at Temple Sholom is an effort among educators, parents and students to make Judaism part of who we are. We embrace making educated Jewish choices that add meaning and holiness to our lives.
Overview of our program
News
Come shop for one-of-a-kind gifts from local artisans, crafters and food purveyors. You'll find great gifts for the holidays and the perfect host/hostess presents for Thanksgiving, too!
Learn more about our amazing artisans by visiting our Facebook event page and watching the video below.
---
Get ready for Lego Night!
Our annual pre-Chanukah Lego Night is coming up on Thursday, Dec. 12, 6-7:30 p.m. It's free and open to all, but space is limited. Learn more and register here. We're also looking for volunteers to help out. Sign up here.
Upcoming Events
Oct. 31 - Lunch with Rabbi Abraham
Nov. 3 - Kristallnacht Program: The Czech Memorial Scrolls Project - 7:00pm
Nov. 9 - Pray & Play, 10:00am
Nov. 17 - Holiday Boutique - 9:30am - 1:30pm
Nov. 22 - Hava Nashira Kabbalat Shabbat service - 7:30pm
Nov. 25 - Scotch Plains-Fanwood Community Interfaith Thanksgiving Service - 7:00pm
1st United Methodist Church
Nov. 29 - Volunteer at St. John's Soup Kitchen - 8:00am
Wed, November 13 2019 15 Cheshvan 5780