Homes of Temple Sholom
Homes of Temple Sholom
Temple Sholom's 100+ year history
The first home of Temple Sholom from 1913 until 1927.
The front of Temple Sholom on 7th Street in Plainfield.
The property was purchased by the Sisterhood and was completed in only one year.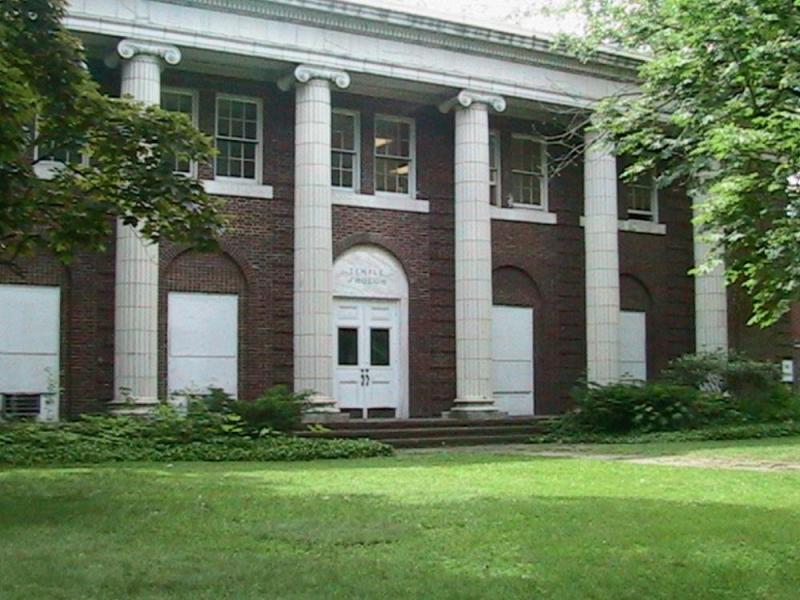 This is the inside of the original chapel on 7th Street. In this photo it is set up for a wedding. The date (July 1960) suggests that it was for the wedding of either Martin and Judy Schwartz or William and Sandra Dreier who were the last two couples to be married in what became the old sanctuary before the building was expanded and a new larger sancuary was constructed.
Below shows the 1961 building completed. The stained glass of the "old sanctuary" are still visible at the right.
Here is a service in the main sanctuary from 1979 with Rabbi Goldman at the bima.
Here is a partial view of the building in 2003. Note the hallway on the right which was added along with the religious school wing not visible from this angle.
In 2004 the Temple had moved to Fanwood and became guests of the Presbyterian Church on Martine Ave. This is a photo from the first service held in the "chapel" of Temple Sholom in Fanwood.
1925 Lake Avenue
Return to previous page Press here
Tue, March 28 2023
6 Nisan 5783
Tue, March 28 2023 6 Nisan 5783